Regular price
Sale price
$22 USD
Unit price
per
Sale
Sold out
Our gentle handmade Yoni soap helps restore pH balance, fight odor, tighten skin, fight bad bacteria and even reduce inflammation.
💜 pH Balancing Cleanser Feminine Soap
✨ Infused with Apple Cider Vinegar & Aloe Vera
💯 Unscented & totally gentle soap
🌱 Great for even the most sensitive of skin

Yoni Vaginal Soap is a specially formulated soap developed to gently cleanse the intimate area. Its pH-neutral formula is designed to protect and maintain the natural balance of the intimate area, providing a comfortable and hygienic cleanse with every use.
Hey Ladies, let's not forget to care for that part as well!
This Yoni Soap Bar for Vaginal Wash will make you feel rejuvenated and would absolutely boost your confidence. Private parts are an essential part of our body, so let's treat it like a temple!
✷ Great Cleansing Herbal Blend ✷
We believe that Organic Yoni Bars are the best vegan soap for feminine hygiene. Why? Well darlings, this soap is moisturizing, nourishing, and gentle on the skin! That area is simply a wonder that we must nurture, you know. What also makes this Yoni soap unique is that it has a PH balance, is unscented, and helps prevent odors and other undesirable conditions!
✷ Incredible Organic Natural Ingredients ✷
Using this soap will help you maintain a healthy vaginal environment. The soap is plant-based, organic, natural, handmade, fragrance-free, and chemical-free! It specially features incredible organic ingredients such as aloe vera, coconut oil, olive oil, apple cider, purified water, essential oil blend, and neem oil.
✷ The Perfect Feminine Hygiene Gift for Her ✷
With this soap, your pH balance is maintained and you will be cleansed! Great gift for moms, daughters, best friends, or girlfriends. Gift it on any occasion such as birthdays, Christmas, Valentine's Day, anniversaries, and many more!
✷ Ingredients ✷
[Aloe Vera, Coconut Oil, Olive Oil, Apple Cider, Purified Water, Essential Oil Blend, Neem Oil.]
✷ Please do NOT insert this soap or any Yoni soap in your private parts. We recommend lathering with a washcloth or hand, washing, and rinsing afterwards.
Free 2~5 Day Shipping from Florida, USA 🇺🇸
View full details
This product is amazing! Smells great! I love the consistency of it. My skin is loving it. A little goes a long way and it rubs right in. Definitely a repeat customer 🙌
Aurelia K.
Verified Buyer
Super fast shipping, great customer service, and their products are heavenly, this is why I keep coming back ❤ 5 stars 🌟
Destiny M.
Verified Buyer
AMAAAZING!! 😍 This is my 3rd order, the products are So fresh, SO clean, & the owner is SO sweet! :) my skin feels so much better.
Lea D.
Verified Buyer
I have made many purchases online and this seller is the best. She is fast communicator, very fast shipping. Somebody really does love me!
Tiffany G.
Verified Buyer
Handmade by real people fresh from our kitchens straight to your bathroom.
What Makes Us Special
Find out why you should choose SomeoneLovesYou instead of other stores.
| | | OTHERS |
| --- | --- | --- |
| | | |
| --- | --- | --- |
| 100% Vegan | | |
| Handmade | | |
| Easy to Use | | |
| Eco-Friendly | | |
| Cruelty Free | | |
Happiness Guaranteed 💜
As a Small Family Business, our #1 priority is your happiness. Which means we stand by our product 100%, no matter what, no questions asked, no holds barred, no ifs, no ands, no buts. If you have a problem, we will do our best to solve it. Whatever it takes. Just reach out to our us.

That's why we're offering a 30-Day, Risk-Free Trial. If you're not in love with your results, we'll give you a refund. We're here for you. Happiness Guaranteed.
Customer Reviews
06/26/2022
Callie

United States
I highly recommend this product
Thank you so much for the yoni + aloe bar soap I love the quality of the soap as well as the packaging! The customer service was a 10/10 and fast shipping. I also received a sugar scrub sample along with a very nice thank you card. I will be buying more from this seller! I highly recommend this product.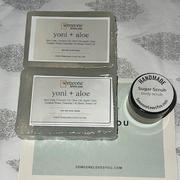 04/19/2022
Eboney V.

United States
03/29/2022
Tiffany R.

United States
11/29/2022
Danielle

United States
Finally a soap that helps gets rid of smell
Helps reduce discharge and smell
11/28/2022
Tiffany L.

United States
Cured recurrent UTIs
I love what this soap has have done for my vaginal health!!
11/18/2022
Bri

United States
AMAAAZING!!
AMAAAZING!! I will never use another yoni soap! So fresh, SO clean, & the owner is SO sweet! :)
11/16/2022
Lorna M.

United States
I recommend them to anyone!
I am glad I doubled back and placed another order. The body butter is my fave. The yoni soap, the turmeric face mask and the African soap are very good products and I recommend them to anyone!
08/20/2022
Regina L.

United States
Great quality
Smells great fast delivery great quality will order again
Questions? We've Got You Covered
How long does shipping take?

Most orders are shipped within 1-2 Business days.

U.S. Domestic: 3 - 5 business days, delivered using USPS.


All international: 8 - 15 business days delivered.
Do you ship internationally?

We sure do! We can ship products to most countries around the world.

Please be aware that different countries have unique custom rules and regulations.
Do your products contain any animal products or by-products?

SomeoneLovesYou products are vegan-friendly, and cruelty-free. We do NOT use any animal components and/or by-products.
Are your products suitable for all skin type?

Yes! Our products don't contain any harsh ingredients and are safe for all skin types.
Do you use any preservatives?

More than 95 percent of SomeoneLovesYou products are self-preserving, which means they don't require any synthetic preservatives to stay fresh.

The work behind creating these products is meticulous. It's taken hours of experimentation and dozens of test products to find a way to combine ingredients to create an environment without using synthetic preservatives.

These products are called self-preserving because their formulas have been expertly balanced in a way that the ingredients themselves keep the product clean of excess bacteria growth.

Aside from the fact that they don't contain any synthetic preservatives, our self-preserving formulas tend to look slightly different from the preserved formulations: they're usually a little darker in color, have a thicker consistency and feel a little different.

Thanks to the reduced water content, our self-preserving formulas have a richer texture and tend to feel more concentrated, so you'll love them if you like more moisturizing products.

As an added bonus, their shelf life and the effect they have on the skin is exactly the same as their counterparts.
Try Us Risk Free
Free Shipping

Free shipping for all orders over $50.

30-Nights Trial

Try us for 30 nights. Not in love? Full refund.

Easy Returns

Simple return policy for your peace of mind.