Best Results for Your Skin Type
Fight Aging
This restorative face and under-eye cream subtly hydrates the skin without leaving it greasy or oily. Balance out every cell while reducing t-zone shine and unclogging the pores.
Restore Hydration
Nourishing Aloe Vera and Shea Butter deeply penetrate the pores to eliminate toxins and restore natural hydration. The result? Firmer, softer, and suppler skin.
Easy-to-use
Gently massage into the face AM and PM for optimal results. SomeoneLovesYou is the best way to start (and end) your day, every day.
The Only Face Cream You'll Ever Need
Lovingly infused with Aloe Vera, Shea Butter, and other skin-fortifying ingredients, this deeply hydrating formulation penetrates every pore. Reduce inflammation, combat unevenness, and smoothen out the skin AM and PM.
REPLENISH AND RENEW.
Bursting with skin friendly antioxidants ,Aloe Vera deeply penetrates the skin to treat dryness, acne, and beyond with powerful enzymes and Vitamins A and C.
HYDRATE
Shea Butter has been cherished for centuries for its ability to deeply hydrate even the driest of skin, restoring elasticity and reducing the visible signs of inflammation.
NOURISH.
It's no secret that blueberries are bursting with antioxidants and your skin loves them just as much as your tummy does! A powerful fusion of Vitamin C and anthocyanins fights free radicals and promotes collagen production.
BOOST
This marvelous natural emollient soothes and smoothens the skin, mimicking natural sebum while providing potent defense against moisture loss.
EXPERIENCE THE DIFFERENCE
PURE

Someone Loves You is vegan and friendly to sensitive skin, free from fillers, chemicals, parabens, GMOs, or SLS. We also never testonanimals only humans like you!

ANTI-DRYNESS

Formulated especially for dry skin. This deluxe miracle cream treats your unique skin concerns without the need for additives, chemicals, sulfates, or parabens.

AGE-DEFYING

Advanced moisturizing and natural ingredients work together to slow down the hands of time with deep moisture penetration that targets dark spots, wrinkles, and pesky fine lines.
INSTANT ABSORPTION.

A gel likec onsistency, thanks to Aloe Vera, means your facial cream will absorb instantly into the skin.This prevents epidermal waterloss and ensures optimal hydration

ECZEMA AND PSORIASIS RELIEF

From mild irritation to serious sunburn, this replenishing formula protects even the most sensitive skin and promotes relieving healing.

SMALL BATCH

We're not mass-manufacturers with stock that sits gathering dust on shelves for months. Each facial cream tub is freshly handmade in small batches to maintain optimal effectiveness and quality.
As seen in:
MOST ASKED QUESTIONS
Is it safe for all skin types and ethnicities?
Of course! As a natural product line our formula is paraben, sulfate, and fragrance free to ensure we help women and men with a variety of specific skincare needs.
What can I use this Face & Body Cream for?
An all-in-one skincare cream you can use this on your face, under your eyes, or on your body to help with restoring healthy skin, reducing inflammation, or protecting long-term health.
Does it work for redness, rosacea and other skin inflammations?
Yes. It contains natural antibacterial and skin healing properties like Aloe Vera Gel and Honey to help heal and protect dry, irritated, cracked, or even burned skin.
Does SomeoneLovesYou offer money back guarantee?
We offer a 30-day Money back guarantee.
Customer Reviews
I'll be turning 40
I'll be turning 40 this year and I use all three of your products daily! Love them and addicted to all of them! Thank you ♥️
11/19/2019
Gianna Z.
Pakistan
How do I love thee? Let me count the ways.
I upgraded to SomeoneLovesYou soft creme when I sped past 45 and my neck started looking crepey. I've been using it steadily just on my neck for 3 weeks, and the results are dramatic. Nice and smooth, no crepey thing going on. My 16yo niece told me that she's confident that she's going to age beautifully because I look so good. Ha. I told her to start caring her skin lavishly NOW. I've been treating myself and using it as a night cream, and no one believes I'm almost 50. Yay!
Love this stuff
I just got into this brand about two weeks ago I'm a person who uses natural things on the skin I use raw honey as a cleanser so when I saw this line I was like wow amazing. This is a great night time moisturizer I put this on after I cleanse my face with the organic cleanser followed by the hgo toner then my rosehip oil. My skin is softer than its ever been I'm going to get the next purchase love that you guys put great ingredients in here. I have dry sensitive skin and the products really work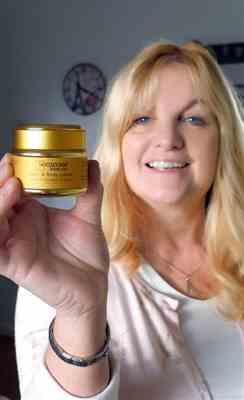 11/07/2019
Jordan K.
United States
post partum dryness
I had intense dryness post partum and tried just about everything and nothing worked until I bought this! It's so moisturizing and leaves a nice dewey finish.
Free Shipping
Easy Returns
24/7 Support